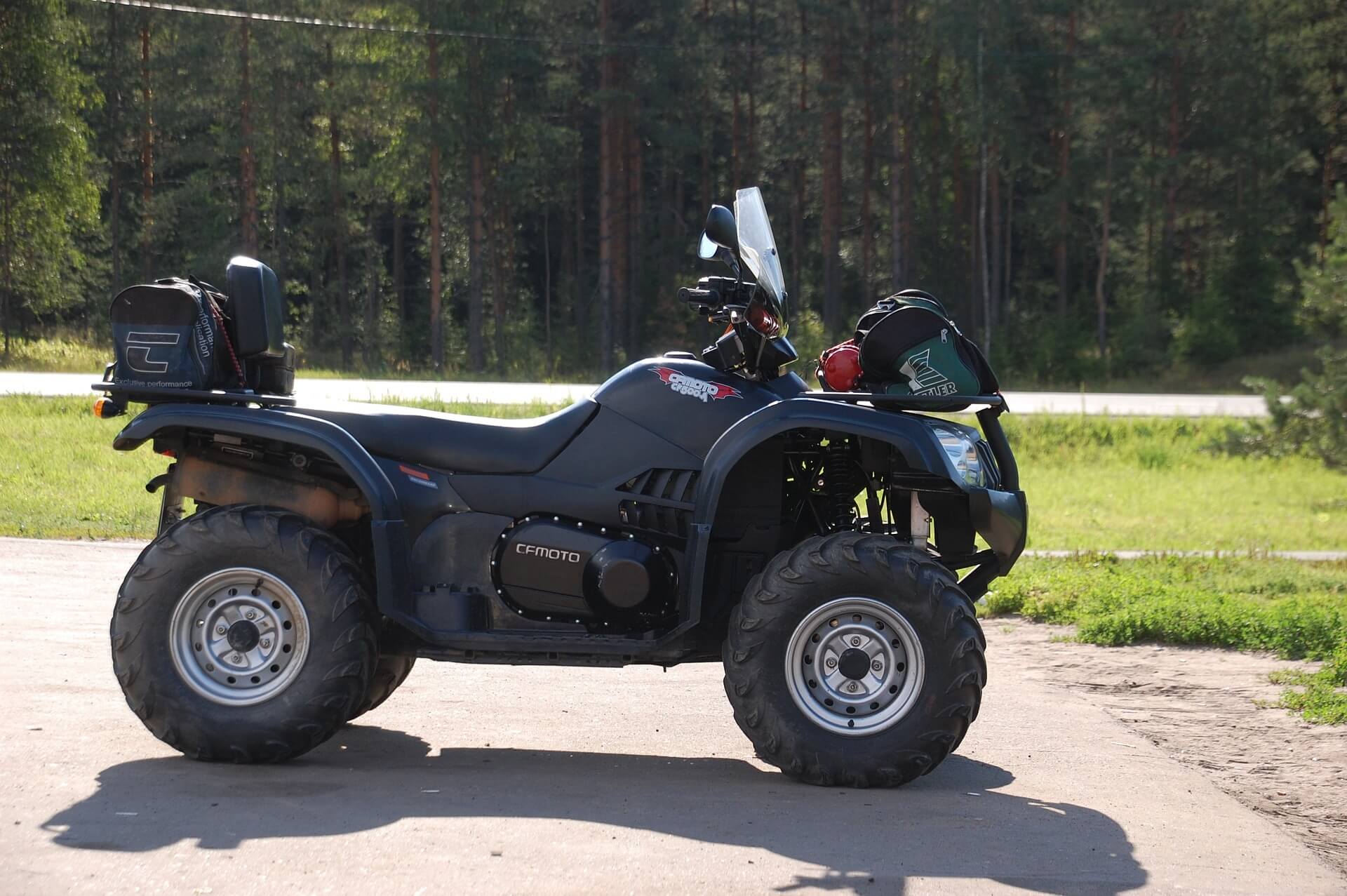 An ATV shipping service is undoubtedly the best solution for people and businesses aiming to ship ATV cross country. Whether you're transporting your personal ATV or relocating your dealership's inventory, a professional ATV shipping company like Shipaa makes the process stress-free and secure. We bet you have a lot of questions – and we are ready to answer them all. So keep reading to learn about the different methods of ATV hauling, the cost involved, and how to choose a suitable company for your needs.
How to Transport ATV/UTV?
So, where to start? Hauling ATVs might seem daunting at first, but with the proper preparation – it will be a cakewalk. Are you here for an easy-to-follow guide? Here it is. Check the step-by-step guidance on how to ship an ATV:
Pick a transport method – How to transport ATV? You can ship your ATV or UTV via an open or enclosed trailer. The next are details like the distance, weather conditions, and protection level you need for your vehicle.
Choose a reputable ATV shipping company – This step affects all the steps above and below. A solid company like Shipaa will do all the routine work for you. Look for a company with experience, a good reputation, and the necessary insurance coverage to protect your vehicle while shipping an ATV.
Prepare your ATV or UTV for shipping – Remove any loose items, check tire pressure and battery levels, and secure any removable parts.
Schedule the pickup and delivery dates – Set a pickup and delivery date you're fine with and coordinate with your shipping company to ensure prompt pickup and delivery.
Hand over your ATV or UTV – On pickup day, your precious vehicle should be ready and accessible for the ATV shipper. Expect a pre-transport inspection to note any existing damages.
Track your shipment – The best UTV shipping companies offer tracking your UTV or ATV transportation, so you know precisely the location of the UTV & ATV transporter during shipping.

Receive your ATV or UTV – On delivery day, inspect your ATV or UTV for any damages and ensure everything is in good condition before signing off on the delivery.
ATV/UTV Shipping Cost
An ATV shipping cost depends on several basic factors, like the shipment distance, the ATV transport method (open or enclosed trailer), and the size and weight of your ATV or UTV. There are, of course, more factors that impact the shipping price, like the pickup and delivery location, any additional services required, and the time frame for the shipment. All of them are highly individual and should be discussed with your carrier. By choosing Shipaa, you can count on our professional managers ready to help you with every question. Below are some approximate numbers to give you a better idea about the average cost to ship a UTV or ATV:
Expect something between $100 – $600 to ship an ATV or UTV within the same state. Assuming a standard ATV or UTV in good condition, with a standard pickup & delivery process.

Shipping ATVs across the country ranges from $600 to $1500. It takes into account the further distance and the increased transport costs.

In the case of international shipping, expect something from $1500 to $3000, depending on the destination & shipping method. Besides, international shipping requires additional documentation and logistics, which adds to the cost.
Simply put, ATV shipping costs between $100 – $600 within a state, while shipping an ATV cross country costs from $600 to $1500. Keep in mind that the mentioned prices are just estimates and vary based on your shipment specifics. Consider getting quotes from multiple ATV shipping companies to find the best option for you. At Shippa, we strive to provide the best price-quality ratio in the US market.
What is the Cheapest Way to Ship an ATV or UTV?
We all want the best options possible. But, sometimes, just good is good enough, especially when a good option saves your budget. Of course, the cheapest ATV or UTV transport option depends on your needs, but there are some general tips to consider:
Open trailer transport: Enclosed option provides ultimate protection, but it's not necessary for most cases. Having basic protection with an open trailer, you can save a considerable amount.
Book in advance: Booking your ATV ship in advance gives you the advantage of lower rates and more flexible scheduling options. What about terms? Consider at least a few weeks in advance to ensure the best prices.
Multi-pickup options: If you're shipping multiple ATVs or UTVs, a multi-pickup option is your way to go. Having all your vehicles shipped on the same trailer reduces the overall cost per unit.
Off-peak times: Some days are busier than others, like Christmas or New Year. If you set the shipping outside those days, you don't overpay an extra.
How to Choose the Right ATV/UTV Shipping Company?
A good shipping company is 99% of shipping success. The largest US carriers like Shippa cover all the aspects and take all the responsibility. All you need to do is to order a quad transportation, prepare your car, and get your precious asset in the agreed terms. Here are some tips on picking a reliable shipping company:
Experience: Opt for ATV transport companies with a proven track record of successful ATV and UTV shipments. Such a company has years of experience and a strong reputation in the industry.
Insurance: The best ATV shipping companies offer affordable insurance coverage for your vehicle. It's needed to protect your ATV or UTV against any potential damage during shipping.
Customer service: Good customer service is about making the whole process effortless for you. Customer managers support you, from getting an ATV shipping quote to picking up your car at the destination point. A good shipping company provides you with all the information about the shipping process, so you are kept updated 24/7.
Flexibility: Busy at your job? You might want a shipping company that offers flexible scheduling options and can accommodate your specific needs.
Price: The total shipping ATV cost is something you can stipulate after getting a quote. However, getting the lowest ATV freight charge doesn't automatically mean the quality quad shipping overall. It should not be the decisive part. Consider all the points mentioned above to see the complete picture.
Why Shipaa Is One Of The Best ATV and UTV Shipping Companies?
At Shipaa, we are proud to be at the top of the US carriers market. Here are several things you want to know about us:
Expertise: Our professional team has years of experience in the US shipping industry. We are in the know about all the ins and outs of shipping most vehicle types, including ATVs & UTVs. With modern tech kicking into the industry, we study and adapt it.
Safety and security: We use the latest tech and equipment to ensure safe and secure shipping ATV or UTV. All our ATV truck carriers are fully insured for your peace of mind.
Customer-focused approach: Your satisfaction is our priority, so we offer you a smooth, efficient, and stress-free shipping experience. Our professional customer service team is always available to answer any questions you may have.
Competitive pricing: You can expect competitive prices and transparent pricing with no hidden fees. We work day and night to provide our clients with the best price-quality ratio in the US.
Flexible scheduling: You may have a very specific timeline and budget. And that's totally okay for us. We are committed to offering you the best options based on your needs. Don't adapt for us – we adapt for you!
Choosing Shipaa as your shipping company means playing safe. You can expect a stress-free, experienced ATV delivery on the agreed terms. Get in touch with us to discover more details about our ATV transport services and how we can help you ship your vehicle with peace of mind.
Frequently Asked Questions About ATV Transportation Services
What is the best way to ship an ATV?
The best way to ship ATV is by using a reliable and experienced shipping company that offers flexible scheduling and competitive pricing, such as Shipaa.
How to prepare your ATV for hauling?
First of all, drain all fluids, disconnect the battery, and secure loose parts. Contact us to get informed about any additional preparation requirements.
What is the average cost to ship a UTV?
The UTV shipping cost is up to basic factors such as vehicle size, the shipment distance, and the shipping method. Contact us for a customized quote.
How long does it take to ship ATV/UTV cross-country?
It largely depends on the quad transport method and the shipment distance. The delivery may last up to 7 days. At Shipaa, we offer you flexible scheduling options to accommodate your timeline.