Golf Cart Transportation
We can deliver your golf cart to every corner of the US
Submit a request
Golf cart transportation is the most popular solution for many people, especially in golf courses and communities. However, not every shipping company deals properly with golf carts, let alone people who want to transport golf carts on their own. This is where Shipaa comes in. Our team of experts provides reliable and affordable golf cart shipping services for all customers across the US. So whether you're moving to a new home, traveling for a golf tournament, or simply needing to transport a golf cart for maintenance, we have you covered. Our commitment to customer satisfaction and safe golf cart hauling ensures your asset will arrive at its destination in pristine condition. Get in touch with us to get more details on our golf cart transportation services.
How to Transport a Golf Cart in 3 Easy Steps
How to transport a golf cart? Golf cart delivery is challenging, but with Shipaa, it's a breeze. Some might move to a new home, travel for a golf tournament, or simply need to ship a golf cart for maintenance. No matter the case, we are ready to take on all the work. There are just 3 easy steps you have to follow: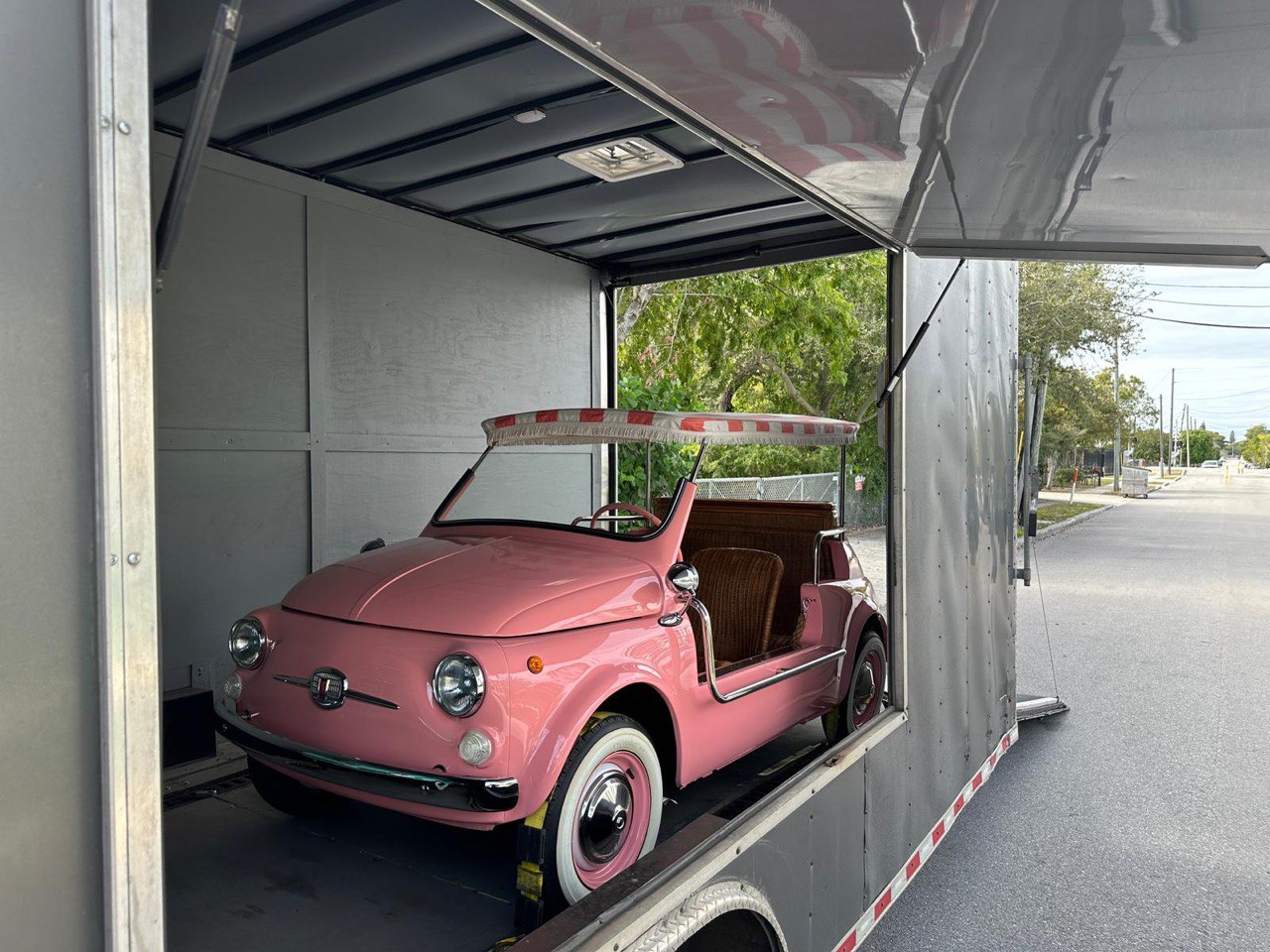 Time is money, right? We respect your time, so we made an easy online form that takes a few minutes for you to fill out. Simply send us the pickup & delivery locations and any other details relevant to your cart shipping, such as your golf cart's make and model. Our representative will then provide you with a quote.
Once you accept the quote, schedule a pickup date that works best for you. Our professional drivers will arrive at your location on time to load your golf cart. Before loading, expect an inspection of your cart for any damages. All the information is noted on a Bill of Lading.
Our golf cart carriers securely ship your vehicles anywhere you want them to. You can track your golf cart transport progress using our tracking systems. Besides, we'll provide you with updates throughout the cart shipping. Upon delivery, inspect your golf cart before finalizing the deal. Congrats, now you have your golf cart delivered to its destination!
How Much Does It Cost to Ship a Golf Cart?
A golf cart shipping cost varies by a lot of factors. Nevertheless, you can't make an informed decision about your golf cart transportation needs without knowing these factors. We want to be sure our clients are provided with all the necessary info. Here is a list of some basic factors that will give you a notion of how much you'll pay to ship a golf cart:
The distance between the start and end points is the most obvious cost factor. As you might guess, the longer the distance – the more golf cart shipping will eventually cost.
The size & weight of your golf cart also play a significant role. Heavier or larger golf carts require larger trailers and more fuel, leading to higher golf cart shipping costs.
Shipping insurance is optional but highly recommended. The insurance cost varies based on your golf cart's value and selected coverage type. Consider getting a quote for the more precise numbers.
Well, even the time of year impacts the cost to ship golf cart. The price might greatly increase during peak seasons like Christmas and holidays. To avoid paying extra, simply pick some other days.
There are two main types of shipping golf carts: open and enclosed trailers. An open trailer provides basic protection, which is enough for most cases unless it's transported during extreme weather conditions. If your golf cart belongs to the luxury segment, or you're just ready to pay a bit more for the ultimate protection – an enclosed trailer will provide it.
Your golf cart might require some special handling or equipment, such as a lift gate or a special loading ramp. And that's totally okay for us! Just note that such special care also impacts the cost.
Overall, the cost to ship a golf cart is $100 – $200 (under 100 miles) and $300 – $600 (100+ miles). Contact Shipaa for a personalized quote based on your specific shipping needs and requirements. Our team of experts will help you find the best solution at a price that fits your budget.
Choose Shipaa for your golf cart transportation
And rest easy knowing that your cart is in good hands
Check the price
What Is The Cheapest Way to Ship a Golf Cart?
The cheapest way to ship a golf cart is primarily using an open trailer for golf cart transport. Open trailers give your vehicle basic protection but are undoubtedly suitable for most cases. The cost to ship a golf cart using an open trailer for golf cart transport is generally lower than using an enclosed option, which provides ultimate protection for luxury golf carts or those requiring special handling. As you already know, many factors impact golf cart shipping costs. You should leverage them all to get the cheapest way to ship a golf cart. It's always best to contact a golf cart delivery service such as Shipaa to receive a personalized quote based on your specific shipping needs and requirements.
Why Shipaa is the Best Choice for Your Golf Cart Transport Needs?
As you can see, a golf cart transportation business takes on all the workload. So everything you might need is already prearranged in the best way. Thus, you want your golf cart shipping company to meet all the modern requirements. At Shipaa, we don't just meet them but set the bar of quality for the shipping industry in the US. We are proud to be at the top of the market. Here are just a few reasons why Shipaa is the best choice for your golf cart transport needs:
Our team has years of experience in the transportation industry, specifically in handling and shipping golf carts. We've mastered the ins and outs of shipping golf carts and do ensure that your cart arrives at its destination in the exact condition as when it was picked up.
Shipaa accommodates all your needs, even if you need to ship the whole fleet of golf carts. We offer open and enclosed golf cart transporters, and our team will work with you to find the best option for your needs and budget. If you have some custom requests – be sure that we already have a custom solution for you.
Shipaa is known for our commitment to transporting a golf cart on time and in the same condition it was picked up. Our team takes the necessary precautions to protect your asset during golf cart transportation, such as securing it on the trailer, covering it if necessary, and using the latest technology to monitor its location during cart transport.
At Shipaa, we believe in providing exceptional customer service. Our team will be happy to provide answers to any questions you have, provide updates throughout the golf cart hauling process, and address any concerns you may have. We are dedicated to making sure that you have a pleasant experience from start to finish.
Frequently Asked Questions About Golf Cart Transportation
❓ What's the best way to transport a golf cart?
The best way to transport a golf cart directly relies on your budget, distance, and time constraints. The best overall option to get your golf carts delivered is using a professional golf cart transport service like Shipaa. This option eliminates all the difficulties related to golf cart transportation.
❓ Will my golf cart be insured during the cart transport?
Yes, of course. At Shipaa, we insure all the vehicles during golf cart transportation. In the very unlikely event of damage or loss, you will be fully compensated for any damage during cart transport.
❓ How long does it take to ship a golf cart?
The time of shipping a golf cart varies depending on the pickup & delivery locations and the type of trailer for golf cart transport. On average, shipping a golf cart with Shipaa takes anywhere from 2-7 days, depending on the distance & route taken. Request a quote to get an estimated delivery time for your own shipment needs.
Contact us today for a personalized quote
And to start the cart shipping process.
Check the price