Open Transport Car Shipping
The most widely chosen and affordable option
Submit a request
Open transport car shipping is the most widely chosen and affordable option when it comes to shipping vehicles. Most resellers and dealerships work exclusively with open carrier car shipping because it's efficient and cost-effective. Besides, the majority of rigs on the market are open-type carriers. This is why you should select Shippa's open carrier car transport option if time is your main concern. There are simply more rigs and delivery times to choose from with open car transport.
While there are risks of minor damage with open transportation, especially over long distances, such occurrences are exceptionally rare. Damage is caused mostly by sudden storms, road debris, or driver error while loading and unloading. Shippa drivers are carefully selected, as are our routes, so your risk is minimized. For a small fee, you can always select the Topload option during the ordering process to have your vehicle transported on the upper level for extra protection on the road.
Open car shipping is a popular option for a reason. Despite some safety trade-offs that allow you to save a few extra bucks, an open car carrier is still a no-brainer for anyone aiming at a price-quality golden mean. If you are still unsure whether you want to choose enclosed or open auto transport, let's dive deeper into open carrier shipping.
What is Open Auto Transport?
It's a type of transportation when a carrier doesn't feature any roof covering or side protective panels. That's why it's called an open car carrier. It might sound less safe, but not unless you pick the wrong time and weather for delivery. The open car shipping process involves numerous important factors that professional managers take into consideration. Given the fact that Shipaa provides insurance coverage, you can be certain all your risks are minimized.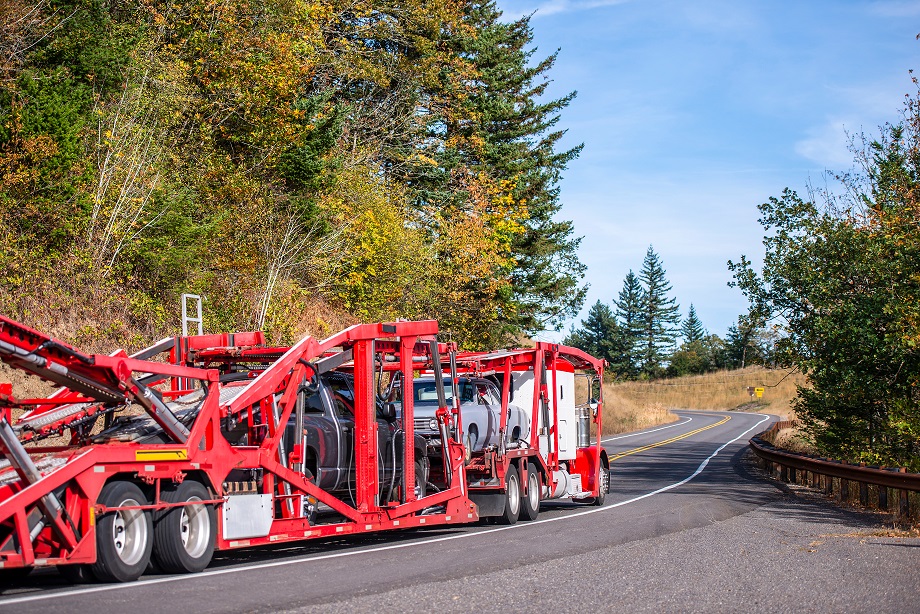 How Much Does Open Car Transport Cost?
The final price of open transport car shipping depends on many factors. The open car shipping process is multi-layered and heavily influenced by each customer's individual case. For example, delivering a car in summer will be more expensive than in spring. Delivery to a rural area can also incur additional costs. Why? Let's find out.
First of all, the cost depends on the type of shipping. Open carrier car shipping is about 30% cheaper than enclosed shipping. This is the main open transportation trade-off, as more physical car protection costs more as well. But, as already mentioned, open car shipping is completely safe unless there is severe weather. Here are some numbers:
| | |
| --- | --- |
| Distance | Open Car Transport Cost |
| <500 miles | $630 |
| 1,000-1,500 miles | $1,070 |
| >2,500 miles | $1,350 |
But there are a lot more factors than just shipping type. The length of the route directly impacts the price, as you must cover fuel expenses. The same goes for open transportation routes. Not all states provide the same fuel prices. By the way, rural areas cost more because of difficulties with getting there and the risk of damage to the transporting vehicle.
Bigger vehicles mean bigger expenses. Let's take a car as a basis. Given the numbers above, an SUV will cost you about $150 more, and a truck – $300 more, regardless of the type of shipping. The condition of your car also impacts the price of open car carrier transport. Cars in good condition cost the least.
Summer is the busiest season due to an increase in car purchases. Bigger demand increases open transportation costs. This impacts the summer season and any day with a skyrocketing number of car purchases. For example, Christmas and the holiday season. Picking the least busy days is wise in terms of saving a few extra bucks.
Contact Us Today For a Personalized
Open Car Transport Quote
We are always available by phone +13053070066
Check the price
Advantages of Open Car Transportation
Open transport car shipping is designed to be the most efficient way of transporting vehicles. The idea of open air car shipping is to provide more at fewer costs. This is why open trailer car transport is so popular. But the great price-quality ratio is not the only benefit. Let's talk about the main advantages of an open car carrier.
Open carrier auto transport is the fastest way to deliver your car. If you select this option, we can offer more availability for you as more than 95% of our carriers are open type.
You can save a lot by choosing the open vehicle transport option because it's the most common way to deliver cars in the industry. This large-scale business allows setting the open car transport cost as low as possible.
Yes, cars can get damaged when transported by an open car carrier, but these are isolated cases. The vast majority of cars are delivered to their destination without any issues. Shipaa, like other reputable US carriers, pays great attention to vehicle security.
First off, we do our best to ensure the safety of transported vehicles, so you have nothing to worry about. Secondly, we provide insurance coverage from the moment your car is loaded until the moment it's unloaded. No extra charge!
It won't take much time to find a suitable open car carrier for you. In addition, we choose only the best of the best. Our customer feedback confirms this.
We know there are certain situations when your car needs to be delivered at a precisely specified time. Call us if you need your car to be there on the dot.
We will connect you with the driver of your road carrier so you can have first-hand information about your car.
You can add a little more to the open car transport cost to have your car transported on the upper deck. This will add to your peace of mind.
Being always up to date is our thing. In addition to receiving emails with status updates, you will be notified during each stage of the delivery by our managers.
Most open transportation carriers prefer direct payment for delivery. This saves time and money.
Open Car Shipping FAQ
❓ Is open car transport safe?
Open transport car shipping is completely safe even without extra physical protection as with enclosed transportation. It allows you to reduce costs with minimal risk. Cases of car damage are exceptionally rare and mostly depend on extreme weather conditions. In any case, we provide insurance coverage from the moment your car is loaded until the moment it's unloaded.
❓ Is open car shipping the cheapest way to ship a car?
Yes, open carrier car shipping is the cheapest way to ship a car. But you should consider other factors such as route length, season, car type and condition, and so on. The final price depends on each specific case, so it's better to get an open car transport quote.
❓ What are the disadvantages of open auto carriers?
The main and only disadvantage of open transportation is the lack of protection from certain weather conditions. So, if you are used to getting the best of the best no matter the price – enclosed transportation will suit you better.
❓ How fast is open car transport?
The exact amount of days depends on route length, weather and road conditions, etc. But open transportation is surely faster than other types of transportation due to the number of open trailer vehicles. In other words, you find your professional driver much faster.
Choose Shipaa for your open car transportation
And rest easy knowing that your car is in good hands
Submit a request