Discover the ultimate solution for transporting your classic car with Shipaa, the expert in providing safe and reliable luxury car transportation services. With our extensive experience and commitment to customer satisfaction, we understand the unique challenges involved in handling prized automotive possessions. In this article, we'll dive into why Shipaa is the best choice for classic cars transport, the factors influencing classic car shipping costs, our streamlined hauling process, the benefits of different transport methods, and frequently asked questions to help you make an informed decision. Trust Shipaa to treat your classic car with the care and attention it deserves.
Why Shipaa is the Best Classic Car Transport Company?
Shipaa stands out as the premier classic car transport company for numerous reasons. We take pride in providing exceptional classic car transport services that cater to the unique needs of classic car owners. Here are four main advantages that set Shipaa apart from the competition:
With years of experience in the classic car shipping industry, Shipaa has developed an unparalleled understanding of the intricacies involved in handling and shipping classic cars. Our team comprises seasoned professionals passionate about automobiles and dedicated to ensuring safe luxury car hauling for any level of complexity.
At Shipaa, we understand the value and sentimental attachment you have to your classic car. That's why we offer comprehensive insurance coverage for all vehicles we transport. Our policy ensures that your classic car is fully protected against any potential damage or loss during classic car transport. Knowing your vehicle is safe with us will give you peace of mind.
Shipaa recognizes that every classic car owner has unique requirements for classic car hauling. We offer a range of customizable exotic car shipping options, including open and enclosed exotic car transport, to cater to your specific needs. Whether you prefer cost-effective open classic car carriers or the added protection of enclosed classic car transporters, Shipaa has the perfect solution to suit your preferences and budget.
Shipaa is committed to delivering exceptional customer service every step of the way. From the initial quote to the final delivery of your classic car, our team is readily available to answer your questions and address any concerns regarding exotic car transport. We believe in maintaining open lines of communication to ensure a seamless luxury car shipping experience, and we continually strive to exceed your expectations.
What Type Of Transport Choose For Classic Car Shipping?
When it comes to luxury auto transport, selecting the right type of carrier is crucial to ensure its safety and security. There are two primary options to choose from: covered (enclosed) and open classic car carriers. Both methods have their advantages and disadvantages, so it's essential to weigh the pros and cons to determine the best option for your specific needs.
Covered Classic Car Transport
Covered classic car transport, also known as enclosed transport, offers the highest level of protection for your classic car during transit. Your vehicle is transported inside a fully enclosed trailer, shielding it from weather elements, road debris, and potential damage from other vehicles.
Pros
Cons
✔️ Maximum Protection: Enclosed classic car carriers provide superior protection from weather, dust, and debris, ensuring your classic car remains in pristine condition during transit.

✔️ Increased Security: Enclosed trailers offer added security, as your vehicle is not visible to passersby, reducing the risk of theft or vandalism.
❌ Higher Cost: Classic car covered transport is more expensive than open carriers due to the additional protection and lower vehicle capacity of the trailers.

❌ Limited Availability: Enclosed carriers are less common, which may result in longer wait times for scheduling your classic car transportation.
Open classic car carriers are the most cost-effective option for shipping classic cars. Your vehicle is transported on an open trailer, typically with multiple other cars, exposing it to weather conditions and road debris during transit.
Pros
Cons
✔️ Cost-effective: Open classic cars transport is more affordable than enclosed transport, making it an attractive option for budget-conscious classic car owners.

✔️ Wider Availability: Open carriers are more common, leading to greater scheduling flexibility and faster classic car shipping times.
❌ Less Protection: Open classic car carriers expose your car to weather elements and road debris, which may result in minor cosmetic damage during transit.

❌ Lower Security: Your vehicle is more visible on an open vintage car carrier, making it potentially more susceptible to theft or vandalism.
Classic Car Shipping Cost
Classic car shipping costs can vary depending on several factors. Understanding these factors helps you make an informed decision when selecting a luxury car transport service. Here are four main points that influence classic car transport prices:
The primary factor affecting the classic car transport cost per mile is the distance between the pickup and delivery locations. Longer distances generally translate into higher classic car shipping costs. The route taken can also influence the price, as remote or hard-to-reach locations may require additional resources, leading to increased expenses.
Larger and heavier vehicles usually require more space on the carrier and can be more challenging to load and unload, resulting in higher classic car shipping costs. Your classic car's make, model, and modifications can also influence the price, as specialized equipment or handling techniques may be necessary.
Open custom car carriers are the most common and cost-effective method of shipping a classic car. Prices for open classic auto transport typically range from $0.50 to $1.25 per mile. Enclosed transport, on the other hand, offers additional protection for your classic car, but it comes at a premium. Enclosed luxury car transport costs can range from $1.00 to $2.00 per mile, depending on such factors as vehicle size and route.
Classic car shipping costs fluctuate based on seasonal demand and market conditions. During peak seasons, such as summer, the demand for classic car transport services is usually higher, which can drive up prices. Conversely, you may find lower classic car transport prices during off-peak seasons when classic car carriers are more easily available.
Classic & Luxury Car Hauling Process
At Shipaa, we understand that classic and luxury car owners demand a smooth and efficient hauling process. Therefore, our goal is to provide a seamless classic car shipping experience that ensures the safe and timely delivery of your valuable vehicle. The following steps outline the main aspects of our classic and luxury car hauling process: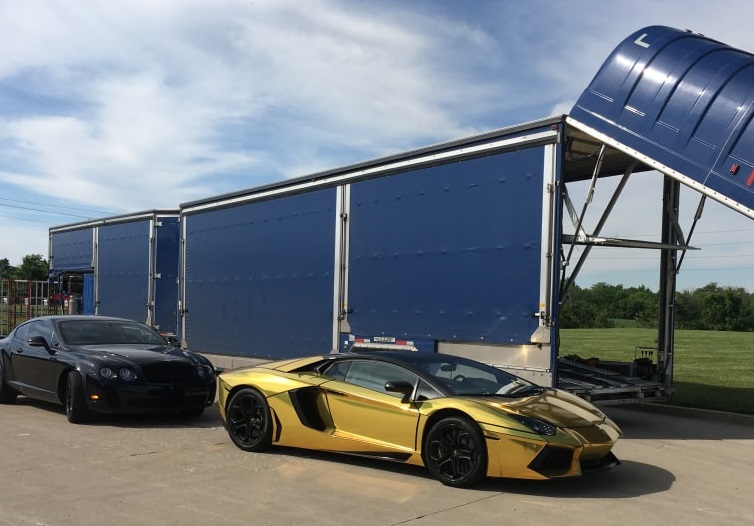 Start by requesting a quote from Shipaa. Provide details about your classic or luxury car, including the make, model, and any modifications, as well as your preferred classic car shipping method (open or enclosed transport). We'll assess your requirements and provide a competitive quote tailored to your needs.
Once you've accepted our quote, we'll work with you to schedule a convenient pickup date and time. Our team will contact you in advance to confirm the pickup details and provide instructions on preparing your vehicle for classic car transportation.
When our carrier arrives to collect your classic or luxury car, they'll perform a thorough inspection to document the vehicle's condition. This inspection report, often called a Bill of Lading, will serve as a record of your car's condition before transport and can be used to address any potential claims.
Our experienced professionals will carefully load your vehicle onto the classic car carrier using specialized equipment and techniques designed to protect your car from damage. During the luxury vehicle transportation, our team will take every precaution to ensure a safe and secure process.
While your vehicle is in transit, you'll receive regular updates on its status and location. Our customer support team is always available to address any questions or concerns you may have throughout the antique car shipping process.
Upon arrival at the destination, our custom car carrier will unload your vehicle and perform a final inspection to confirm its condition. We encourage you to carefully review the inspection report and compare it to the initial documentation to ensure your vehicle has arrived in the same condition it was picked up.
Frequently Asked Questions About Classic & Antique Car Transportation
❓ How long does it take to transport a classic or exotic car?
The collector car transport time depends on factors such as distance, weather conditions, and classic car carrier availability. Generally, it takes between 1-3 weeks for domestic classic car shipping.
❓ Will my luxury car be insured during the transportation?
Yes, Shipaa ensures that all luxury cars are fully insured during transportation. Our comprehensive insurance policy covers any potential damages that may occur during classic car transportation.
❓ How to prepare my classic or exotic car for shipping?
To prepare your classic or exotic car for shipping, perform a thorough inspection, document its condition, secure or remove any loose parts, check fluid levels, deflate tires slightly, and disconnect the battery (if required). Also, ensure you have a set of keys ready for the classic car shipping company.
❓ Can I ship a classic car that doesn't run?
Yes, you can ship a non-running classic car, but it may require additional equipment and labor to load and unload, resulting in higher classic car shipping costs. Inform the classic car shipping company in advance so they can make the necessary accommodations.